FAQ
Here are some common questions which our customers ask.
Why did my shopping cart become empty after I abandoned cart and came back to continue shopping?   
Can I place an order online?   
Siunsons.com is a Business-to-Business (B2B) website. Any retailer, business, and organizational groups can register and order here. Minimum order quantities may apply.
How can I place an order online?   
What to do if I forget my password?   
Step 1 Click "Forget Password"
Step 2 Put in your e-mail and "Submit"
Step 3 You'll receive a link in your e-mail to reset a new password

What should I do if I experience any technical difficulty or have website enquiry?   
What if I need further assistance?   
Call 604-275-5428 or 1-800-383-4634
Press 2 for Accounts Receivable or to make a payment
Press 3 for Orders status
Press 4 for Sales

How to start placing order in just 3 clicks?   
Step 1 Visit the webstore at
https://www.siunsons.com
Step 2 Search by item# or alternatively scan the UPC with a scanner or Visit Products / Web Specials / New Arrivals to start adding to cart
Step 3 Select the desired product and complete the order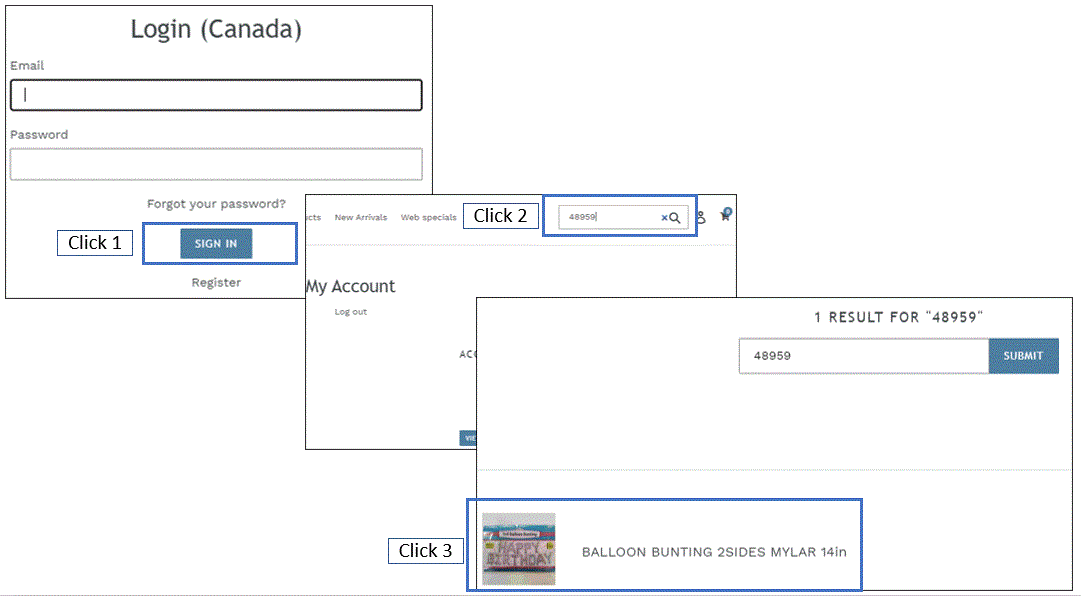 How to make re-order faster by scanning UPC into a search field? (scanner is required)   
At the "Search" bar at the top right corner, scan the barcode with a scanner and you'll be directed to the product ordering page.
How to keep me posted with Siu & sons specials?   
1. Subscribe S&S e-marketing: (email address)
2. Subscribe S&S text-marketing: (cell no.)
Is there free WIFI at your showroom?   
Yes, we have free WIFI at the showroom. You can enjoy yourself while we work diligently for your order.
Do you provide helium service?   
Yes, we offer a great variety of balloons, provide helium service, and make beautiful balloon bouquets to your order!